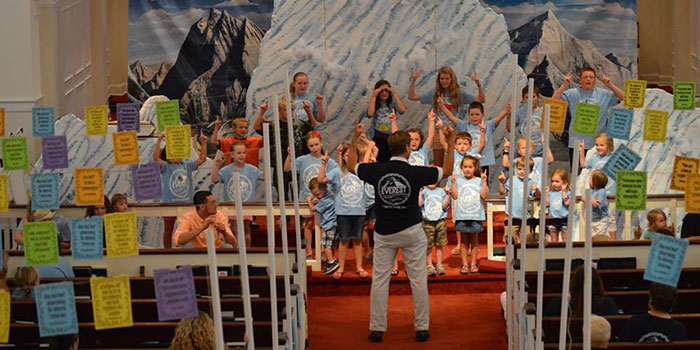 Children
Nursery
Nursery is provided for children ages six weeks to four years on Sunday mornings. Nursery One is available for our smallest church members from six weeks old to two years. Once a child turns two they are part of Nursery Two until age 4.
Children's Church
PK 5 year olds – 12 year olds
Children are invited to Worship Service to attend our Children's Time message. After Children's Time, they are dismissed to be part of Children's Church. Children's Church is a wonderful time for the children including fun music, Bible verses, and Bible Stories.
Annual events include Easter Egg Hunt, Vacation Bible School and Trunk or Treat. Mark your calendar for Vacation Bible School 2016 to be held July 10-15.
Youth
All middle school and high school students are invited to be a part of our youth ministry.
Adult
United Methodist Women
Mission Statement: Turning faith, hope and love into action on behalf of women, children and youth around the world.
Purpose: United Methodist Women shall be a community of women whose purpose is to know God and to experience freedom as whole persons through Jesus Christ; to develop a creative, supportive fellowship; and to expand concepts of mission through participation in the global ministries of the church.
Schedule: Local circles are opened to all women of Elizabeth Chapel: Louise Sproles meets at 7:00 pm on the first Tuesday of the month and Joy Circle meets at 11:00 am the last Tuesday of the month.
United Methodist Men
Purpose statement: The group of United Methodist Men shall be a like minded community of men whose purpose is to know God and to develop each person through a servant's attitude, working for the love of Jesus Christ; developing a fellowship; and thru our actions glorify our Lord supporting the global ministries of our church.
Schedule: Meets second Sunday each month 8:00 am for breakfast and business meeting.
Senior Adults
Get together once monthly usually the first Thursday each month for different outings etc.
Missions & Service
Helping Our Neighbor
Backyard Missions – Provides food and financial assistance to those in our neighborhood who are in need.
Emmett School Food Program – Provides food to disadvantaged students during Christmas break
Bristol Family Promise – We serve as a host church
SteppenStones
Operation Christmas Child
Conference Mission Project
We are also a Red Cross Emergency Shelter.